Tecla – living a true nomadic lifestyle
Up from the hill, an energetic lady comes walking. "Have you seen any sheep?". The annual sheep herding is underway, and Tecla Ris, originally from the USA, is helping out at the mountain farm Gjæra in Norddal.
The farm is located up on the steep mountainsides, and the hosts, Ingvild and Martin, run small-scale sheep farming. For a long time, they have housed "workaways" – people who work as volunteers worldwide for board and lodging – and in Gjæra, they help with everything related to sheep farming.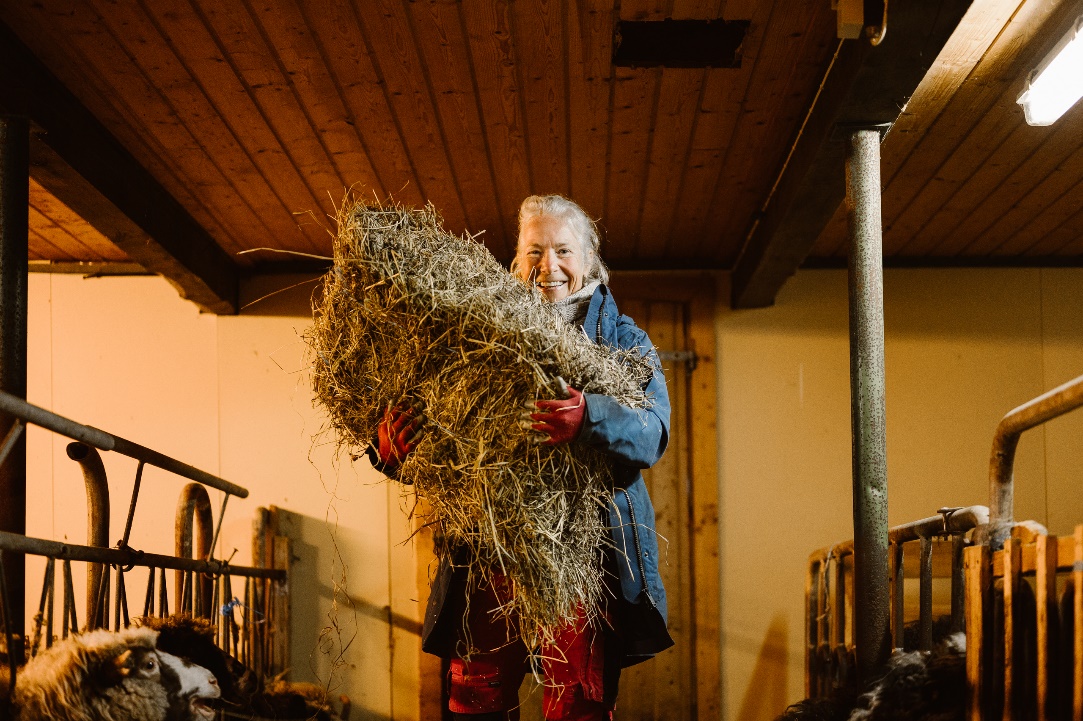 Tecla loves working with sheep, here photographed during feeding at the mountain farm Gjæra in Norddal.
For six years, Tecla and her husband Bruno have been nomads. They have worked as volunteers around countries such as Ecuador, Argentina, Chile, the Netherlands, Guatemala, Mexico, the USA, Kyrgyzstan, France, Italy – and now Norway. Mostly she helps out on farms. She tells about the special aspects of working together, the dinners, meeting the families, good "vibes". Her husband, on the other hand, is a retired software engineer who likes to contribute to indoor projects in the apartments they rent during their stay.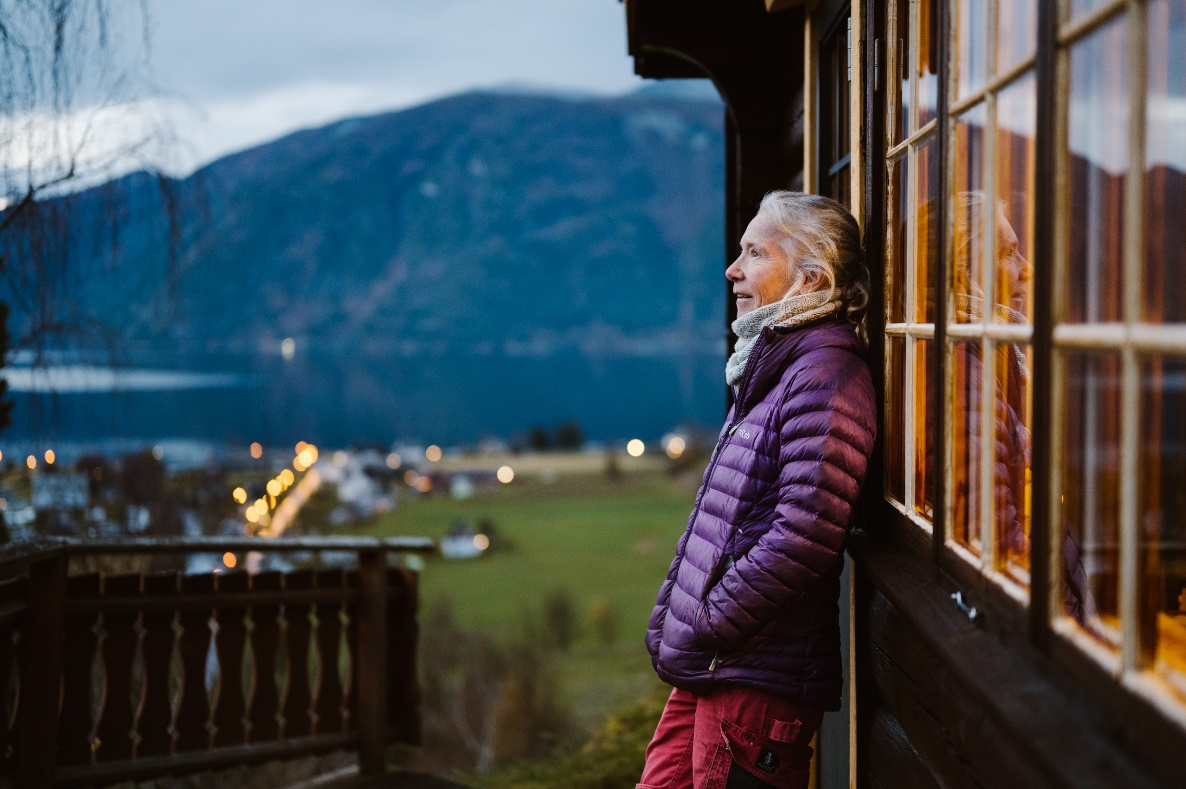 Tecla at the cabin they are renting in Dale, Norddal. 
"It all started when we moved from Boston to California. I moved from three jobs and all my friends and was alone. I remember the first farm where I asked to work as a volunteer. I had put on nail polish and done my best to look nice. The wife on the farm was shocked…". But since then, Tecla has obtained various experiences from working on a farm. She has participated in fruit and wine farming and with farm animals such as sheep and goats.
"Hi, I'm Tecla Ris. I love volunteering on vineyards and farms."
This is how Tecla presents herself on her own website. "I have particularly enjoyed working in the vineyards," she says and explains eagerly about trimming trees and harvesting grapes.
After having experienced sheep farming in Vesterålen and in Gjæra, the animals have become a new favourite. If we jump three weeks forward in time, she will be in the middle of sheep shearing on a farm on Beitostølen. Tecla is very enthusiastic about both the people, the animals, and the sheep shearing. "I mostly participate in sending the sheep in, but sometimes I get to try shearing on the sheeps' sides."
And the journey does not end here. The two already have plans until next year's summer. First, they are going to the Netherlands for Christmas, as the couple have roots and family there, then they will be working in the vineyards again until the summer before they might take a trip to Norway again. 
"Home is where I am happy, and this may be anywhere."
"I am so grateful that I have been to so many places. It makes me happy to be with people, help, work as a volunteer on the farm – and come back and take a shower."
With her experience from working in teams with others, Tecla is concerned that coworkers become lonely if they do not have contact with people. She therefore has a piece of advice:
"You can write that if the coworkers have time, they should help someone in their neighbourhood." 
Meir frå Tecla sine reiser
Kort film fra Finca Ogawa i Uco-dalen ved foten av Andesfjella i Mendoza-provinsen, Argentina. 
Her vart Tecla og mannen hennar invitert av eigarane av Casa Alegria for å hjelpe til med å presse druer.